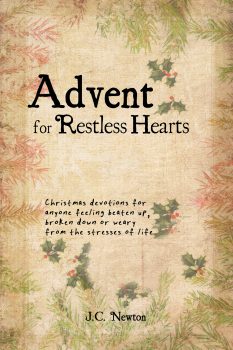 Download our new Advent devotional! Daily Christmas devotions for anyone feeling beaten up, broken down or weary from the stresses of life. Free to download and free to share.
Perfect for individuals, couples or families, Advent for Restless Hearts will help you keep focused on Jesus each day through a structured Advent wreath celebration. Light a candle, read the bible, sing carols, read a devotion, reflect on its meaning and pray to close. Each day's activity only takes about 10 minutes.
Right-click the links to download.
    Advent ePub File (via Dropbox)